buy a house, Live a dream, Make it home
Are you shopping for new home? Have you considered buying a home that needs updates only to be turned off by the time, energy, focus, disruption that would be required to make that a reality? Welcome to our Make It Home Realty Services! Our goal is to help buyers of existing properties with the tools and expertise to create and renovate a house that is uniquely theirs. We work with you to create realistic budgets, workable installation schedules, and walk you through  the design process. Our ultimate wish is to enable you to RENOVATE BEFORE YOU MOVE IN! You can find the benefits of this process here.
I'm already investing in a house, how can i afford updates?
Did you know that the CMHC allows home buyers to borrow an additional 10% of the as-is value of the house for improvements through their Purchase Plus Improvements program? 31% of Canadians don't know that this option exists! The average home in Winnipeg is around $300,000 – which means that you could receive up to an additional $30,000 on your mortgage for house improvements with as little as 5% down for first time home buyers. If this is your second home, many lending institutions have a lending product to enable purchase plus improvements with the same percentage requirements for down payment as you are currently considering.
HOW do WE HELP
We are a full service design build renovation company. Renovations is what we do! Our objective is to coordinate your improvements from conception to completion. We believe in the value of existing neighborhoods. There is no better time to renovate a property than when it's empty. Our team of skilled trades and trusted suppliers and consultants can advise you on lead times, preproduction times, installation schedules and your ultimate move in date. We can lead you through the process of budgeting, selections, priorities and set the stage for all this to begin on your possession date. It could be as simple as changing light fixtures and painting the walls….or it can be a revamp of the whole house. All before your furniture comes in!
THIS IS HOW IT WORKS
Make it Home Realty Services has a step by step process to manage your wish list from start to finish. Our satisfaction is in creating the process that you enjoy and get excited about. We're with you every step of the way.
 1. If you are wondering about costs of simple upgrades, we can provide an estimate within 2 days of your inquiry.  Options for lighting, painting, flooring, doors and trim upgrades.
2. If you are more serious and would like firm fixed pricing, we work with you or your realtor to enter the listing. Within a week, we'll create an intelligent upgrade package customized to that property. Our prices are guaranteed. Options will include, lighting upgrades, painting, flooring, interior doors and trim, bathroom and kitchen upgrades. If you want to go one step further, we'll include some design time to rework the layout, maybe consider removing walls, reimagine the kitchen layout. We can address the entire house if you choose!
3. Next, our consultants work with you to figure out your budget, what is priority and what makes sense to complete before you move in, and maybe what can wait until afterwards. We'll work with your realtor to establish timelines within your offer to purchase to allow all the steps required for a successful implementation of our renovations. Together, we'll visit supplier showrooms and confirm our final selections so your styling is just right for you!
4. Our team enters the house prior to your move in date and completes the transformation. By the time you're ready to move in, our team will have completed the improvements you wanted. No hassle, no mess, no frustrations or worries for you.  It's that simple!
HOW do I get started
There are three key people you need to make this happen for you. Your realtor, your lending agent and us. To start, you need to understand your ultimate affordability and the time you have allowable between possession and move in. You can find our mortgage specialist affiliates here.  You'll also need a realtor who understands your desire to create your own personalized home versus buying someone's else's preferences and styling. Don't have one yet? You can find our affliated agents here, they can lead you to homes with great potential. You can contact us anytime during your search. We'll be happy to hear from you early in your process!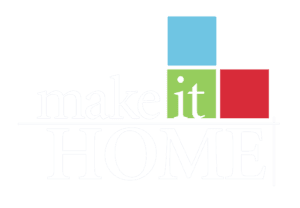 Make it Home Ltd
678 Tache Avenue, WPG, MB
204-290-8113
dgauthier@makeithome.ca