We are absolutely loving our newly renovated home! The entire upstairs looks like a show home! There is not one room in my upstairs that was not left untouched which included a new kitchen, updated bathrooms and new flooring and paint in every room! It was our first renovation project and Doreen made it painless. Doreen managed the project from design to finish and was very helpful in offering advice and suggestions to help me think "outside the box" but really made sure that the renovation met our needs and style. Doreen was patient, paid attention to details, ensured budget was top of mind and was quick to respond. The contractors respect her, were very accommodating and did great work! We had the house appraised after the renovation and the investment we made in the renovation added to the market value of our house. I would most definitely recommend Make It Home Ltd. for any renovation project…big or small! Thank you to Doreen and her team for making my dream house a reality!
Thank you very much for the beautiful new kitchen, dining room + shower you created for me – it makes lockdown very bearable!! I am very pleased that the renos went forward this year and that you + your trades executed them beautifully, despite the pandemic. I cannot wait to host friends + family in 2021 – they will love the spaces as much as me!
We are LOVING our kitchen. We're constantly appreciating how lucky we are to have such a beautiful place to hang out at this crazy time. Just being in the room lowers our stress levels and makes us feel so thankful that we have such a zen-like environment for all the home cooking we'll be doing over the next while. We love everything about it. The planning that went into it is paying off tremendously. Everything is convenient, easy and a pleasure to use. We think of you every day, many times each day. We love the kitchen so much. We still say it every single day – "OMG I love this kitchen." I do many Zoom calls a day sitting at the island so I can show it off! Many people have had virtual tours, emitting lots of ooohs and aaaahs.
Doreen and her vast team of resources accomplished what we thought was impossible: a complete kitchen renovation in just four short weeks and in time for Christmas! We have done many reno projects and while a kitchen should be the most distributive in the home, this was the least disruptive and went the smoothest. We wouldn't hesitate to hire Make It Home for more projects down the road. They really are the best at what they do.
Make It Home has complete 2 major renovations in our home that include a kitchen, family room and creating a larger master bathroom.  Doreen has a knack for reimaging a space in several different ways.  She provides support through all aspects of the project and addressed any issues in a timely manner.  We are very satisfied with the results of our projects and would recommend Make It Home to anyone!
Doreen and her team renovated my kitchen in 2016.  She rapidly understood what I was looking for and she was able to design a wonderful kitchen that I really love.  She was always available to discuss any concern I had and fast to get them fixed.  All my friend and neighbors were very impressed by the work done by Make It Home and Doreen's design.
Make It Home undertook and massive renovation to modernize our home.  The attention to detail and implementation of every aspect of the renovation was first rate.  We are very happy with the finished result and would highly recommend Make It Home for your renovations!
We had never undertaken a major renovation before but Doreen worked with us through each step in the process, and made us feel comfortable with our decisions.  If any little problems arose, they were dealt with.  This renovation project had totally transformed the entire main floor of our home and we are thrilled with the end result.
Working with Doreen and her group of tradespeople was awesome.  She had great suggestions once she listened to what we wanted to achieve.  The salespeople at the suppliers she uses also presented ideas and options for our plan.  The tradespeople were respectful of our home and the space were living in while the renovations were being done.  The areas were kept clean and tidy while each trade was on site.  We enjoyed having her contractor Mitch around.  He looked after us very well.  Having Doreen generate drawings helped us visualize the design.  She checked in with us regularly and visited the site often, making sure the work was done to her (and our) high standards.  A great experience, highly recommend Make It Home and would have them back if we had other work that we wanted and needed to be done in our home.  We love our new space and it is all thanks to Doreen and her vendors and tradespeople!  Thanks Doreen
Our newly renovated basement is now a major showpiece in our home where family and friends enjoy spending time.  Make It Home was responsible for transforming our vision into a wonderful reality.  From the very beginning, Doreen and her team were great to work with.  She listened attentively to the details of what we would like regarding out basement renovation and what kind of budget we had in mind.  Make it Home took care of all the details for our project from the beginning to the very end.  Throughout the process, all of our questions and concern were addressed in a professional, efficient and positive manor.  Make It Home was definitely the right choice for us! 
Merci pour tout, Doreen!  Nous jouissons pleinement de notre beau sous-sol!
MIH has made this project stress free.  They provided a professional, courteous and timely service throughout the project.  The work was completed on time and on budget!!  They were very attentive to detail and focused on full customer satisfaction.  Without hesitation, I recommend MIH!  I'm 100% satisfied!
Doreen has a unique approach to home renovations in that it includes both design and project implementation.  The thorough pre-planning and preparation meant that  when the project started all that was needed was implementing the plan.  Doreen's ongoing involvement meant much less stress for us.  Doreen has a very calm manner that saw us through.  We highly recommend Make It Home!
After finally making the somewhat overwhelming decision to proceed with a kitchen and bathroom renovation we contacted Doreen and her team at Make It Home. This turned out to be the best decision we could have made! Doreen helped us through every step of the designing, planning and decision-making process through a series of in home and office appointments at Make It Home. All steps of the renovation process were made easy with Doreen's thoughtful suggestions and attention to details. Doreen was able to bring our dream kitchen and bathroom into reality and managed to keep us within budget! Doreen accompanied us on all shopping trips to pick out cabinetry, flooring, lighting, back splash, counter tops, paint colors and plumbing fixtures. Her suggestions at every step of the way were invaluable.  The Make It Home team of tradespeople are excellent! We were even able to view homes similar to ours that she had completed renovations for. We both agree, the renovation process with Doreen and Make It Home from start to finish was a rewarding and enjoyable process! We are thrilled with our new kitchen and bathroom! Thank you Doreen and Make It Home!  Our best regards,
,
Doreen, we are over the moon pleased with everything you have done for us. THANK YOU!!!  We will gladly recommend your services to anyone who is renovating. I totally get why you receive so many awards. We wish you nothing but the best with all your future projects.  Most Sincerely,
We are really enjoying the kitchen and the bathroom.  I am enjoying the kitchen so much that I am letting my husband cook most of the meals!!  The best thing is the room we have when we have big family meals, I can cram close to 25 people around my table!  I am amazed at how many people stop when I am outside to tell me how much they love the outside of the house.  As usual, an outstanding job done by you and the team!! 
We have been in our house for over 15 years. We were thinking maybe we needed a change and started looking at houses in our area. We found the location didn't suit us or the houses were out of our budget, plus we have great neighbors! We decided renovating our kitchen and bathroom would be the better solution so we contacted Make it Home. From the start we knew we made the right decision after meeting Doreen. Doreen's knowledge and attention to detail from the drawings to the budget to organizing her team made the renovation a wonderful experience.  Her ideas from helping us choose the cabinets to the backsplash and counters really made the process stress free, also the shopping trips made us confident we were making the right purchases for our home. Who could have known taking out a wall would make our teenagers want to be in the same space as their parents!  All the trades' people working on our home were top notch and the renovation was finished on time.  Our family is so happy with our new renovated home… … we already miss our meetings with Doreen….Thank You Make It Home! 
We had known for years that we needed to expand our small cramped kitchen sometime but the sheer complexity of the renovation required seemed overwhelming. However, Doreen patiently worked with us through several stages of designing a new layout and through the many, many decisions about new cabinets, floors, lighting, and tile, etc. etc. Expansion of the kitchen also meant taking out a small back entrance and moving the back door to provide a more direct entrance to the dining room. Along with Mitch organizing the team, everything was accomplished with a minimum of fuss and delay. We appreciate Warren's careful and accurate yet amazingly fast work. He even found an empty Sprite bottle behind the drywall left by the original builders!
We are left to enjoy a beautiful new kitchen where several people can comfortably work together at the same time, plus a more open and inviting new dining room with all the bright morning sunlight shining in through the new back door window. The transformation has been unbelievable and it is hard to believe how much this living space has changed. In appreciation for all the good work done by you and your team.
Talented, professional, reliable – some words that describe Doreen and her team at Make It Home Ltd. After much research – should we move? should we build? – we decided on renovating the home that we love in the location that is perfect for us. Everyone knows that living through renovations is a pain, but our experience was much better than we could have imagined. From the planning stages, through the design process and onto the final implementation, Doreen made sure that our vision came to being. She was able to tap into the idea of what our dream home was and bring it to life. We are thrilled at the outcome. We are confident that we made the right decision and have to give full credit to Make It Home Ltd for helping us achieve this. We wouldn't change anything and would do it again in a flash. What a wonderful experience thanks to Doreen and her team.
Dear Make it Home Team: We wanted to Thank You for our beautiful Dream Kitchen. Doreen, you and your team were professional, courteous, friendly and always made us feel like we were part of the project. It was finished in a short 2 month period and everyone worked very hard. Thank you Doreen for the great renovation experience and taking care of every detail from start to finish. A really Big Thank You.
Doing a significant home renovation over Christmas time is not ideal. Throw in a two year old and a pregnant wife 8 months along and contractors go running. Not Doreen and her crew! From the first time we met Doreen she made us feel like the renovation would mean just as much to her as it was going to be for us. Her patience and honesty throughout the process was refreshing and always put us at ease. Mitch and the contractors were professional and thoughtful of our situation every time they stepped foot in our house. This was the biggest cliff our young family has ever jumped off of and Doreen made the fall exciting and incredibly rewarding. Thank you Doreen and crew for every shopping trip and making our home, "our home" for many years to come. 
Thanks Doreen for a great renovation experience. You and your crew transformed my kitchen from a total nightmare to an absolute dream – I love cooking and entertaining in it. Everyone was great – always professional, polite and friendly and always left my home remarkably clean and tidy for being in the midst of a construction project – not to mention did great work. Your design and the finished product are the perfect combination of beauty and function.
We have received a lot of compliments over the last year and we are not afraid to let these people know about you and your work. We tell them; Doreen and her team were professional, knowledgeable and courteous. Doreen was able to put our vision on paper and she knew exactly what we wanted. Doreen took care of every detail from the beginning to the end of our project. She accompanied us to the stores to choose the materials and took care of the permits and inspections. Doreen kept us updated with the progress and was always available to answer our questions. The project timelines were respected and we stayed within our budget. We could not have done it without Doreen and her team. Even after the renovations are complete, we can contact Doreen if we have questions. Thank you Doreen for giving our kitchen a new look!
The seat cushions look great. Better than I thought it would look. Everything is out of this world!!! Its a dream kitchen that should be in a magazine. You did an amazing job on this kitchen from the start to the end. You have an amazing eye forhow the end product will look and I trust your opinions and choices. We cannot thank you enough for everything you have done for us. A BIG THANK YOU!
Ce fut un grand plaisir de travailler avec Doreen.  Nous remercions l`équipe de Make It Home pour le formidable travail qu`ils ont réalisé lors de nos rénovations.  Dès le début, Doreen nous a guidés avec d`excellentes idées, son expertise, son sens de l`organisation,  son calme et son attitude positive envers le projet.  Le déroulement du projet fut très bien planifié et expliqué.  Nous avons beaucoup apprécié son approche professionnelle durant toutes les étapes du projet. Communiquer en français avec Doreen et les membres de son équipe nous a facilité la tâche.   L`attention aux détails était importante pour toute l`équipe.  Nous espérions être émerveillés et avons atteint et dépassé ce but.  Doreen a su exploiter le potentiel de la maison au-delà de nos attentes. Merci Doreen de nous avoir aidés à réaliser notre vision!
Our basement renovation experience done by Make It Home was fantastic! Although the design was done by another firm, Doreen and her crew never hesitated to come up with possible solutions when it became apparent that something may not work or look right. I was consulted and guided along the way every step of the process which I appreciated so much. They were very patient as I contemplated and sometimes changed by mind. Doreen should take pride in her ability to budget and plan the renovation time line up front. We were only 6.5% above the estimate and that was with me adding in additional requirements and making changes along the way. Each change was estimated, communicated and okayed before it was done. The timeline was bang on, with the exception of a couple of fixtures that were delayed by suppliers. Very professional! I really appreciated that all of Doreen's crew were respectful of the fact that this is our home and clean up was done daily. Our previous kitchen renovation experience was good, but I have to say the basement reno experience with Make it Home was exemplary! Thanks Doreen
Our renovation project, from start to finish, was a pleasure! How many can say that?!! Thank you Doreen, for taking such care in ensuring that what we wanted for our kitchen renovations, was totally thought out in the designing! Your expertise, not only in the art you have for design, but in seeking to know who we are as a family has so paid off for us in the end result. We are thrilled with our functional kitchen – it's such a joy now working and living in the new space! Our project included removal of a load bearing wall to open our kitchen up into the living room. It has made a real difference for "connecting" with family & friends who come to our home now. The front entrance to our home was changed to include more cabinetry space that is again, so functional. Changes to both the main bathroom and the ensuite bathroom located just off the kitchen have also transformed the look of our home. The time and care Doreen spent in assisting us to choose color schemes, flooring, door handles……well…every detail is unbelievable! Nothing is a problem that can't be worked out! The Make It Home team seemed to be watching with anticipation at our reaction to each stage of the project – thank you to each one for the integrity, kindness and consideration shown to us along the way! Each one of you took such pride in your work! Yes, a company like this does exist in this day and age! We are very grateful! 
We went to the Kitchen Bath Renovation show at the Convention Centre on January 15. We wanted to let you know that we saw NOTHING there that we liked better than the kitchen you designed for us or that made us wish we had done anything different. We left the show feeling totally happy about our kitchen. So, thank you for a job well done. 
As we enter the New Year, I want to thank you for making my house a beautiful home where I can spend my time creating memories and enjoying it.   Your attention to detail, your commitment to the project and your gorgeous designs have truly made my home such a wonderful place to be in.  It is cozy, yet spacious and has all the elements I wanted.  You took so much time to learn about my tastes, the colours and textures that are truly me and then incorporated it into my home.  Having you coordinate the project, saved me so much time and work.  From paint, to tiles, to carpet, lighting and all the other items needed in a renovation – you took the time to research, find and obtain either samples or take me to a location where you had narrowed down the search and each and every time had picked my style out.  You are truly gifted at what you do and I would recommend you to any person considering a renovation.   I can't thank you enough for the wonderful job you did.
Dear Make it Home team, thank you for making our dream kitchen a reality! Doreen and her team of professionals transformed our dated kitchen into a beautiful and functional space, which is now the heart of our home. Doreen provided a plan (actually many revised plans) and presented it in an appealing and understandable way. We spent many hours pouring over the drawings and trying to imagine the finished project. However, we did not fully anticipate the amount of decisions and details involved in an extensive renovation, but Doreen and her team patiently guided us through all the stages. Everyone involved seemed as excited as us to watch the project unfold. Communication was excellent and our input was always respected and welcome. We are most appreciative of their detail orientation, organizational skills and adherence to established timelines. Doreen's "no worries" attitude definitely lessened the stress. Make it Home helped us achieve a balance between function, comfort and the WOW factor we were looking for. We could not be more pleased with the outcome and will highly recommend Make it Home to friends and family.
We wanted to thank you for the great work you've done for us. We really appreciated the service you provided and the ease of communication with you – email is great. All of the workers we encountered were friendly and professional. 
Doreen, thanks again for everything.  We truly appreciate the work that you did and know that without you our kitchen would have only reached a fraction of its potential. 
Appearance IS everything. We at Sentinel realized our storage offices were not giving the wonderful first impression we wanted. With our brand new offices, it was easy to get all those great ideas in place. But where do you start such a large undertaking with 20 year old + properties? Doreen from Make It Home was referred to us and we can't be happier! From having the vision to understand what we wanted, to finding the best materials at the best price point, to recommending contractors, her professionalism shone through. We are thrilled with the outcome. We highly recommend Ms Gauthier to make YOUR dream come true.
Thank you so much!  We are all very happy with the space; the new feel, the details and the way we all can live so much better together.  Please consider us a great reference and your biggest fans.  You were terrific.  Your services were start to end and you handled all the details in every way.  We trusted you!.
Doreen's calm approach really enabled us to feel relaxed about our project.  She really listened to us and produced designs that were great reflections of our needs.  She addressed our concerns and we were quite impressed with all her follow-up.  We really enjoyed her sensible approach to things
Doreen's vision for my condo was fantastic.  She saw through the dated wallpaper and helped me create a great home.   All the work was done before I moved in which was really satisfying.  While I was packing and organizing in my old apartment, Doreen was taking care of the work to the new condo.  C'est un service fantastique!
Our new kitchen layout makes so much sense. Everything is within easy reach…we love the placement of the island across from the fridge.  The whole thing has exceeded our expectations.  We're not sure how we would have done this project on our own!   Thanks Doreen!
Doreen's integrity and commitment to excellence can't be overstated. You won't find a more dedicated, motivated individual with a great attention to detail
We enjoyed working with Doreen.  We appreciated her positive attitude, attention to detail, and problem solving abilities.
The reality would be that we futzed and putzed over trying to do renos for two years but both being so busy, we were never able to commit to doing them because of the time and effort we thought would be involved with doing the whole kit and caboodle on our own. By working with Make It Home, we were able to outsource much of the running around as well as the headache of trying to manage various contractors and trades to ensure things were done right. Getting itemized breakdowns of what things cost made things much easier to move forward
We knew what we wanted from our house renovation:  more living and storage space, a spacious open-concept kitchen, an area where we could sit and have our morning coffee in the sun.  People usually know what they want, but putting it down on paper is a difficult job.  We went to Doreen to discuss our needs, and she listened well.  We had a great discussion about different options and solutions so that we could get everything we wanted.  She wondered if we had considered moving the kitchen in our 1970 bungalow from the end of the house to the centre – it was amazing – it answered all our needs!  She went to work and drew out an amazing plan that we instantly loved!  We had tried other professionals just to have that money wasted in drawings that were completely unsatisfactory.  The communication with Doreen was so much better.  She brought our ideas to fruition with her practical knowledge and impeccable style.  I've highly recommended Make It Home to all our family and friends.  Even if you're just looking for ideas on how to redesign a small space, or freshen up the look of your home, Doreen can make it happen from start to finish.  Renovations can be incredibly stressful, but with a professional guiding you through all the steps, it can be really enjoyable!  We have completed our renovations, and because of the smart planning and support from Make It Home, our project turned out perfectly.   Without Doreen's creative, reliable, professional and super enthusiastic input, we never would have moved the kitchen and really that's the decision that brought us from an ok reno to a super one! Thanks so much!
Dear Doreen, this is a big thank you for your work in regards to our basement renovation!  Overall, we found the experience extremely positive and consider ourselves fortunate to have connected with you and Mona.  Please feel free to use us as reference.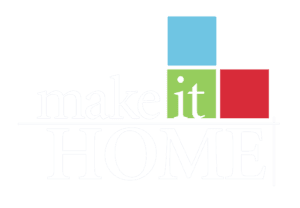 Make it Home Ltd
678 Tache Avenue, WPG, MB
204-290-8113
dgauthier@makeithome.ca